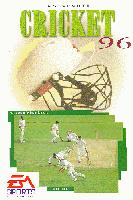 Cricket 96 was the first release in the EA Sports series of cricket games. The UK release of Cricket 96 was called Ian Botham's International Cricket 96.
Reviews
Review of Ian Botham's International Cricket 96 by Games Domain.
Review by Jarred Rubin.
This was my first cricket game I had played on CD-ROM. When I got it I sat in front of the computer for hours but once you've mastered it, its really easy. If you move just in front of where the ball is going to pitch and hook the ball you should score heaps of runs.
I can score over 1000 runs in a game on normal and over 600 on hard. Its one of the easiest games I have played in a long time. The graphics aren't all that bad for a game made in 1996. The other down fall is that the players have made up names. There are no real players in the teams. The other bad thing is that a lot of the teams are missing like Kenya and Holland.
When you bowl if you attack the batsmen you can often bowl them out for under 20 runs so it can get pretty boring after a while. It was also the first game I played with commentary and I really liked that. It gives you a pitch report and suggests what you should do first. So it isn't a bad game for its time, but compare it with Shane Warne cricket 99 and you'll be laughing.
Downloads
The following no longer have download links available as the pages they were on have disappeared.
Cricket '96 Editor [Version 4.20]
Cricket '96 Chase Utility [Version 3.12]
CrickEd v2.2
Feedback
Send feedback about Cricket 96.
Hints
Daniel Storey says When customising your cricket field pick up a fielder (use a left hand spinner) and continuously try to place him below the wicket in the trapezium shape patch when you place him go and change bowler to a right hand spinner select around wicket and then bowl to various places keep bowling until you find a spot in which the ball will come from a totally different spot on the field and if lucky it will hit stumps everytime and the batter can't play a shot at. Best to use against friends and they don't have a clue. Hint: bowl at base of leg stump it produces a good ball but also try different bowlers and marks to bowl to see what you can produce.
Cheats
Tim Glover says when batting and you look like your going to be caught out, keep on pressing the enter key until the ball has been caught. And then the players should not appeal and your batsman will still be in. Sometimes it works and sometimes it doesn't, it's all on the timing when your pushing the enter key.
Links
Screenshots