Howzat?! Test Cricket Manager is a shareware game by EMK software for Windows (not sure what versions but I believe it will support 3.1/95/98 and maybe NT). Considering the game is being marketed as shareware there is no ordering details or price any where in the program and there is no accompanying documentation.
From this poor start the game does not get much better. When you start up the program you have to select which side you want to manage. The menu options list all international sides and Australian State sides but most are not available in the shareware version.
Once you have picked a squad you must train all the players. This must be done every time and is tedious. Training takes place for 7 days and for each day you have to pick a player, select the training and then start the training. There is no way to repeat the training from the previous day. If you survive the boredom of training you must select 20 players for your squad and then 12 players for the next game you play. All of the screens seem to be designed to maximise clicking and make the torture longer than it need be.
Once you finally get to playing the game you have the toss which I lost and was asked to field. You select the next bowler and then click for each delivery. A text description shows the outcome of the delivery. Their are no tactics for bowling other then selecting your next bowler. After just 6 overs the game ended as that is all you get in the shareware version. Not sure what you do if you bat as quite frankly I couldn't be bothered to go through all the training regime again in the hope of winning the toss and being able to bat.
The game also has severe problems with fonts (see screenshots). I could partly understand this if I had my Windows set up to use large fonts but I don't, I use small fonts. I also think some of the background graphics have been ripped from Allan Border's Cricket by Audiogenic. Having just played the demo of Allan Border's Cricket I know they have been as the graphics are saved in a fairly common format.
Sorry but there is nothing to recommend about this game and just 6 overs play is not shareware!. The fact that an exhaustive search of the Internet fails to reveal EMK software implies that this game was aborted!
Reviews
Downloads
Howzat?! Test Cricket Manager from CricInfo.
Feedback
Send feedback about Test Howzat?! Test Cricket Manager.
Hints
Cheats
Links
Screenshots
Main playing screen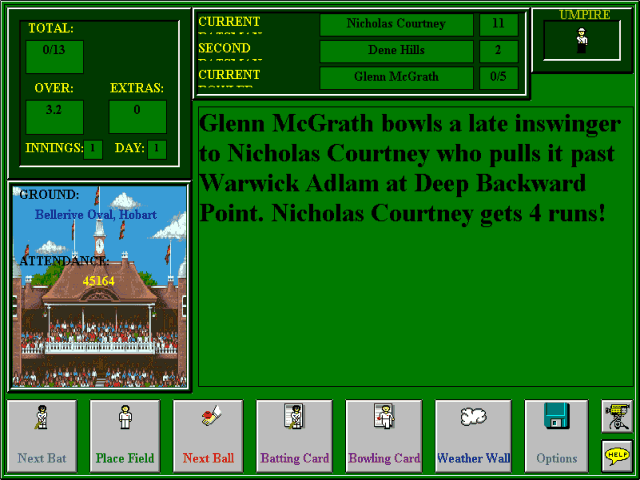 Weather and pitch conditions