World Cup Cricket 96 is a shareware game for Windows by Andrew Williams. World Cup Cricket 96 contains a lot of similar ideas to my game International Test Cricket. Andrew claimed he had looked everyone for a decent cricket game on the Internet and finding none wrote his own. He later admitted he had copied ITC's ideas but made a one day version.
I have no problem with people borrowing from ITC but do like them to credit ITC as a source of inspiration if they create a game that looks very similar. World Cup Cricket 96 could have been a very good game if it were not for one small point - I have never failed to win the World Cup every time I play this game. I have played as England (twice), Netherlands and Kenya and won the World Cup every time! This lack of realism and challenge is very off putting.
You can play the full World Cup or a one off game between any 2 teams. Players are rated using averages plus batting strike rate and form, bowling economy rate and form and finally morale. It is possible to edit the ratings for all rating except the averages and save the changes.
When batting you select your batsman and their batting strategy (aggression) via 2 sliders. There is also an option to look for quick singles at the risk of run outs. Bowling you have similar sliders for defensive to aggressive bowling plus an option to set Defensive, Normal or Aggressive field. Changing bowlers can be quite awkward because as soon as a bowler finishes his 10th over you have to alter the bowlers. You then have to select your current 2nd bowler as your 1st bowler to avoid mismanaging your over allocations. Also after winning a match and the result coming up if you won the match batting 1st and finished a bowlers allocation in the final over you are then asked to select a new bowler! This also happens after winning the world cup and entering your name you may still be asked to select your next bowler!
All too often the team batting second do not seem to make a serious attempt at the chase. In the World Cup final I as England batted first and scored 266 for 3. India in chasing scored 180-3 and made no attempt to chase the target. Matches played which your team is not involved in are displayed as a summary.
There are records kept for highest score, lowest score, highest individual score and best bowling. These are pre-set to actual records. There is no facility to see averages for the tournament which is a pity.
It appears that if you bat on max aggression all the time and not set risky singles option and bowl on minimum aggression you will win most matches especially if you can bat first.
World Cup Cricket 96 is not crippled or restricted in any way. Registration is $15. The email address and webpage listed in the documentation are no longer valid though.
Reviews
Downloads
World Cup Cricket 96 from CricInfo.
Feedback
Send feedback about World Cup Cricket 96.
Hints
Cheats
Links
Screenshots
Batting tactics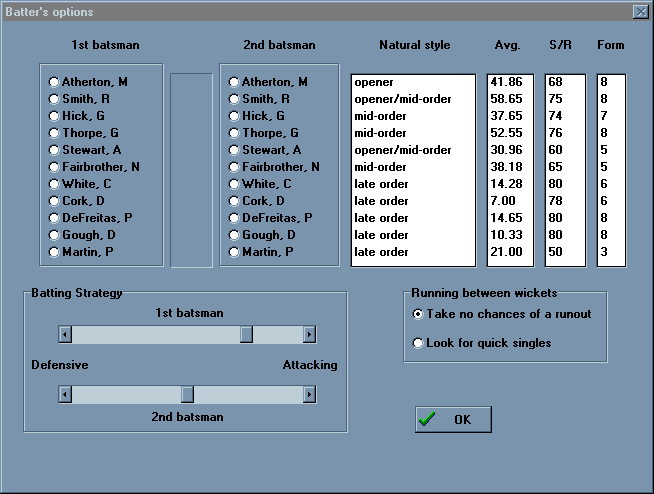 Bowling tactics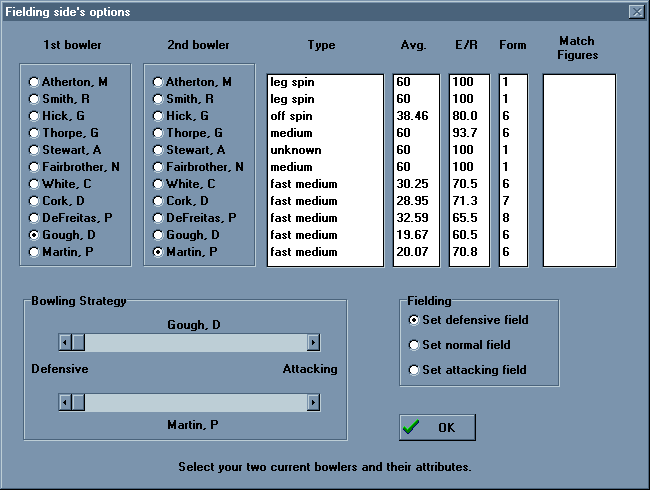 Main playing screen - notice the crazy amount of extras conceded by Pakistan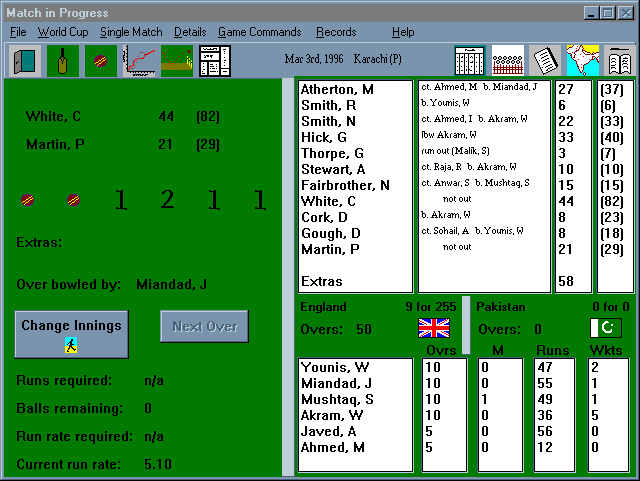 Match scorecard for World Cup Final which I won as England - India's innings seems very unrealistic for a side chasing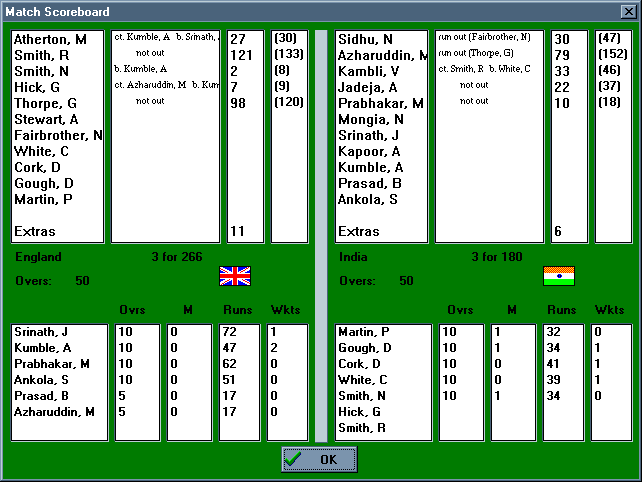 Final points table - UAE finishing 3rd and qualifying for the quarter finals!!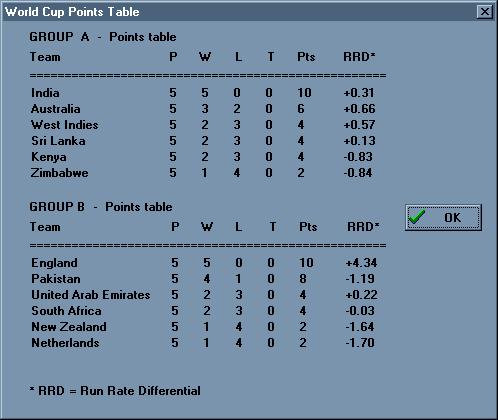 England are World Cup champions