RSC Test Cricket is a shareware game by Brett Freedman for Windows 3.1/95/98 and probably NT. The RSC in RSC Test Cricket stands for the popular newsgroup rec.sport.cricket. Brett is actually an American who has become hooked on Cricket.
RSC Test Cricket as its name suggests simulates Test Cricket. When you first start RSC Test Cricket you can select the sides to play. There are 30 squads to choose from. These squads are test teams for a particular series e.g. England 1985 (vs Aus). The ratings applied to the players are the averages for the series so you can replay previous series or set up what if scenarios like West Indies 1984 vs Australia 1948. When selecting teams you can alter the batting order, once a team is selected you can not alter the batting line up.
You can select the length of the Test Match to be 3 days, 4 days, 5 days or No Limit. For batting you have 3 options Attacking, Normal and Defensive. For bowling there are no tactics other than selecting the next bowler. You can only select a bowler that is defined as a bowler in the team setup. Occasional bowlers are not available to be selected.
You can elect to click a delivery at a time and select the next bowler at the end of each over or play Quick Wicket mode which continues until the next wicket falls or 10 overs have passed. This is very useful and prevents the game becoming incredible clicky. The automatic selection of bowlers does not seem very good though. At the end of the Test you can view the final scorecards or print them out.
There are a few negative points about the game. You have to play both sides in the game. 1st and 2nd innings scores are added together on the main display. No stats or averages calculated or displayed. Poor selection of bowlers in Quick Wicket mode.
The game though is quite fun for setting those what if scenarios. The choice of 30 squads allows quite a lot of choice but unfortunately there is no way of adding your own squads or altering any of the existing squads. The Quick Wicket mode makes it quick playing and the shareware price of $5 is not that expensive. The shareware version does not appear to have any limitations and there is no mention of any enhancements in the registered version. If you could just display and save averages this game would be so much better in my opinion.
Reviews
Downloads
RSC Test Cricket from CricInfo.
Feedback
Send feedback about RSC Test Cricket.
Hints
Cheats
Links
Screenshots
Select your team.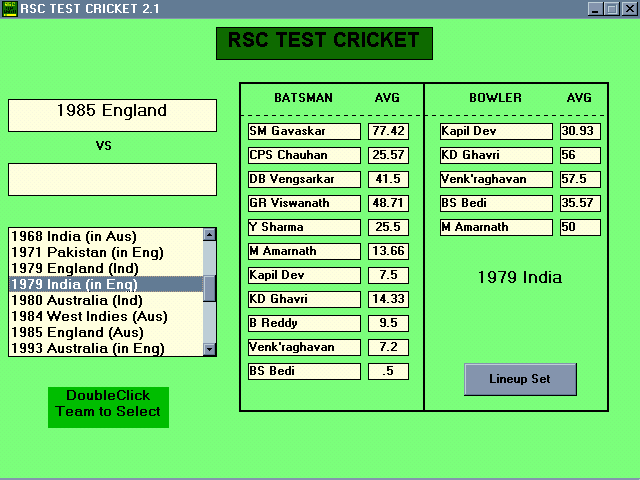 Main display