Sunday League Cricket is a shareware cricket game for DOS by Adam Masood. As the name suggests it is a simulation of the 40 over Sunday League played in England. This game has problems if run on a very fast PC. If you use a program like CPU Killer to slow down the PC to a Pentium 166 it will run.
The shareware version restricts you to just 6 matches and the save and load options are disabled. Being a Worcestershire fan I selected them. You are presented with a menu with the following options
View Squad - This displays the members of your squad with their batting, bowling, fielding and fitness ratings. It is not clear how the ratings are derived and what constitutes a good rating. Also several players who bowl for Worcestershire like Illingworth and Hick are given 0 bowling ratings. You select your starting 11 on this screen.
View Fixtures - This allows you to view all the fixtures for the current week and future weeks.
Play - This plays your next match with the current selected 11. When batting a scorecard is shown. You have 3 tactics Defensive, Normal and Aggressive. The number of runs scored off each delivery is shown at the bottom of the screen. In practice it seems you can always play as Aggressive as you will still lose very few wickets this way. Moody has so far only failed to score a 100 when rain caused the match to be abandoned early.
Bowling lists all players in batting order including the wicket keeper. There are no ratings displayed so you have to remember who your bowlers are and then who are actually rated as bowlers. In my first match I made the mistake of bowling Illingworth unaware he was 0 rated. You can bowl any player including the keeper! Other than selecting next bowler there are no tactics. Very few wickets seem to fall. In 5 matches I only managed to take 4 wickets yet still managed 3 wins and 2 abandoned matches.
Matches which you are not involved in are displayed as a short summary. Here all too often innings are completed with 0, 1, or 2 wickets only lost.
View Table - Displays the current table
View Averages - Displays your squads current batting and bowling averages. There is no facility for viewing averages of other squads.
View Wages - Displays the wages. Not sure of the value of this screen as there is no other financial details in the game.
Load - Disabled in the shareware version
Save - Disabled in the shareware version
Quit - You want a description of what this does!
This could have been quite a nice program if it was not for the inaccuracies in the player details and unrealistic number of wickets falling. Registration is just £5 so is not expensive. Benefits of registration are save/load, contract renewal and ability to sign other players at end of season.
Reviews
Downloads
Sunday League Cricket from CricInfo.
Feedback
Send feedback about Sunday League Cricket.
Hints
Cheats
Links
Screenshots
Your squad details - note Illingworth's lack of a bowling rating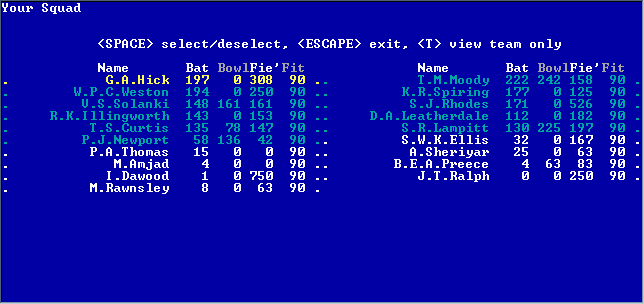 Batting screen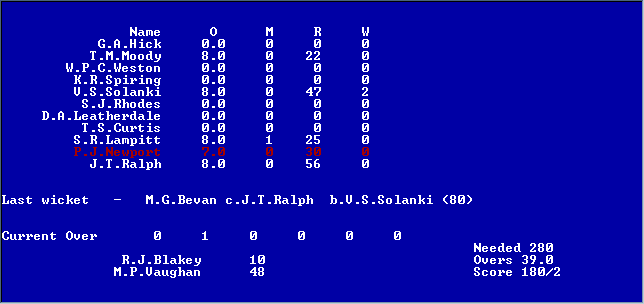 Bowling screen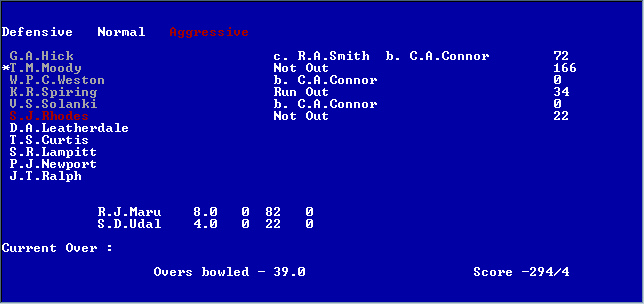 Batting averages after the 5 matches available in the shareware version - just look at Moody's performances to date and the 2 50's were in matches abandoned due to weather whilst Worcester were batting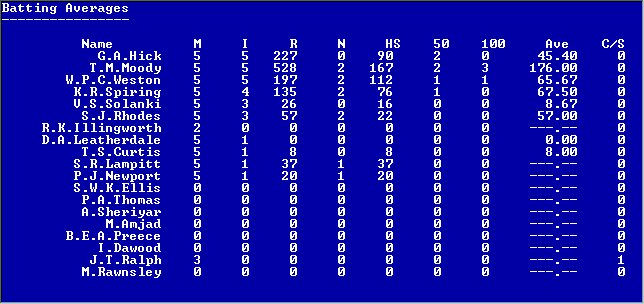 Bowling averages after the 5 matches available in the shareware version - shows how too few wickets fell to be realistic