World Cricket by Zeppelin has to be one of the worst computer games I have ever played. It hasn't even got the excuse of being a shareware game but was originally sold as a full price product.
With World Cricket you pick an international side from the 7 included (Sri Lanka and Zimbabwe are the teams missing) and either go on tour or play host to a computer side. You can play a short, medium or long tour which will consist of a number of tour, one day and test matches. This is about the only good thing about World Cup in that you get to manage a complete tour an option a lot of people would like in other games.
You pick your side from the 20 or so players available. You can have injured players but unless you specifically select the medic option you don't know who is injured and injured players can still be picked. About the most decision making in this game is what to do if you win the toss! When batting you select your batsman but don't make a mistake as you can not change your mind once you have selected a player. A scoreboard is the main display and that ticks over the score until a wicket falls or you hit a six (there are way too many of these to be realistic) when you get a few jerky frames of animated highlights. When bowling you select your bowlers and again watch the scoreboard. There are no tactics in this game at all.
There is no full scorecard, no details of who caught the ball, took the wicket, bowling figures, partnerships, etc. All the information you get about the match is shown on the main scoreboard. You are only offered the chance to declare if the computer thinks it is sensible. After any major partnership (50 or more) is broken the other player involved always and I mean always gets out within an over. When playing a 1 day match the scoring rate remains the same and you have no control over run rates or anything. I batted first and England scored 88 for 4 off 50 overs! When I bowled I had no bowling restrictions and was able to bowl 2 bowlers for 25 overs each and even won the match!
There is just so many things wrong with this game. It would be more fun watching paint dry. Releasing this game as a serious cricket management game is a travesty.
After reviewing World Cricket I thought someone else might like to be subjected to it! Therefore I added a Competition to win my copy of World Cricket. 63 people in fact entered and the unlucky winner was Darren Mansfield.
Reviews
Downloads
Feedback received (my comments are in italics)
Send feedback about World Cricket.
Steve Curran said on 5 March 1999
Oh yes this game sucked, once openers reached 70 they would be dismissed next over, whilst allrounders or mid order batsmen could only make scores in the 40's. To win the games all you had to do was pick a team of batsmen and 2 allrounders to bowl. When it showed highlights there wasn't even a pitch, just stumps in the grass. This game sucked!
David McMullen said on 17 February 1999
I didn't actually realise that I once owned this so-called game until recently. I loaded her up and boy was I shocked, to say the least. This was by far one of the worst games I have ever played. Unfortunately it cost me $20 when I bought it, so I am not sure what possessed me to buy such a piece or crap. To date I am yet to win a match, and for some reason Steve Waugh keeps breaking his fingers, yet misses 8 weeks. The teams are crap, the gameplay is non existent, and the graphics which you rarely see, are expectant of an Atari or Commodore 64. The game came on both CD-ROM and 3 1/2 inch floppy, of which the CD ROM did not work. Not that this was much of a tragedy. If Zeppelin were still up and running today I would demand my money back. Trying to think of what I could compare the game to, I came up with the following; It is about as fun as letting a rat gnaw your eyes out.
Tyrone Marshall said on 18 October 1998
Another point I have thought I should just point out that it is so predictable every opening partnership is 50+ and it is impossible to bowl a team out below 200. For some mind boggling reason I have just entered as I need a Frisbee for my Dad's dog so here goes.
What do people think about a victims club for the damn game and we could send a petition to Zeppelin for a refund! HA HA HA - Don't think Zeppelin are around any more and with games the quality of World Cricket this is hardly a surprise.
Tyrone Marshall said on 17 October 1998
I agree with your comments about World Cricket as I owned a copy on my old Amiga 500+ and it was crap I got it off Father Christmas the stingy git.
Brenton Campion said on 16 October 1998
I just read your review of world cricket, and memories of that game came back. Another thing you didn't mention is that you can bowl any bowlers and it won't make a difference, its just a crap game. I threw my copy of the game away, after using it as a Frisbee, and then bending it.
Hugh Hackett said on 15 October 1998
Blimey, I've just entered your competition and now realise I have actually played this! It was the first CD-ROM game I ever bought (fortunately not for £24.99 - I got it for £10 in a four game compilation), but I played it about twice, couldn't quite believe what I was seeing then ditched it at the nearest 2nd hand games dealer.
(I think it was originally a game on the Amiga - it was).
Hints
Cheats
Links
Screenshots
Main menu screen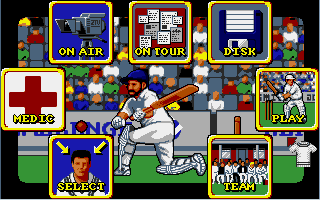 The scoreboard screen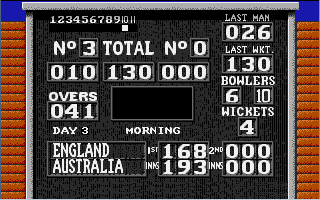 Animated highlights