WinCricket is a freeware program for Windows 95/98/NT written by Makarand Gadre. It is the follow up program to Cricket Simulator. This is a work in progress and has only been released now as I emailed the author and asked for details. The latest version of WinCricket was released March 2000.
The author claims the only major real enhancement is "Extras" and obviously the Windows environment. I think there are a few more little enhancements
Like the Cricket Simulator this version is for people wanting to set what if scenarios. Again you have to create teams using a text editor although teams of 8 test playing countries are included (Zimbabwe being the missing team). This time there are 9 fields to define a player
| | |
| --- | --- |
| | PlayerName : As 1 word, no spaces. e.g. M.Waugh is OK, M Waugh is not |
| | General Batting Activity 0-999 |
| | Batting Risk 0-999 |
| | Batting Class 0-999 |
| | Keeper : Is the player the Wicketkeeper? 1 if yes, 0 if no |
| | Bowler : Is the player a bowler? 1 if yes, 0 if no |
| | Bowling Activity number 0-999 |
| | Bowling Risk Factor 0-999 |
| | Bowling type 1 = spinner, 2 = medium, 3= fast |
The next stage is a major enhancement in my opinion although the author does not claim it to be. Before starting the game you can decide exactly what sort of conditions you want (see screenshot below). There are sliders you can alter to set up the Pitch Surface, Pitch Type, Outfield and Wicket Difficulty. Very few games offer this facility and it is one sure to go down well. WinCricket is I think the only simulation of cricket that does both Test Match (added in latest version) and One Day games in the same program.
Once you start the game again it is similar to Cricket Simulator in that there are no in game tactics other than selecting the next bowler. All the information is now presented on the screen at the same time. The game scorecard is still saved to a text file at the end of the game. You have the option of short scoreboard or a ball by ball breakdown (new in latest version) like Cricket Simulator. I still would like an option to generate an instant result and the ability to generate averages to build up over time. The latest release allows you can elect to start WinCricket and have it select batsman and bowlers automatically.
WinCricket is a nice little program for true cricket buffs that want to try out all those what ifs. The ability to set up the conditions means great games of the past could be recreated with similar conditions. The best bit is the price, WinCricket is totally free and is obviously a pet project for the author as he has been working on it for several years in his spare time.
When I first got this program I emailed the author my suggestions for instant results and averages and got back this list of additional features he hopes to incorporate in to WinCricket
| | |
| --- | --- |
| | Auto-Run Feature so that the match runs by itself (computer will try to pick bowlers with some intelligence), exactly what you suggested - Latest version now includes this option. |
| | A Team Builder with some rules (can't have 2 Keepers etc.) |
| | Enable Test Matches (currently only One Day work) - Latest version now includes this option. |
| | A few weather options, like rain and bad light |
| | A parser that will read the scoresheets and calculate averages (your suggestion again) |
| | A few little things here and there |
Version 2 added the following major enhancements:
| | |
| --- | --- |
| | BATCH mode for the virtual league managers. |
| | Better AutoBowler selection. |
| | Declare option in Test Matches. |
| | Few fixes here and there. |
Version 2.016 adds
AutoBowl is improved and follows a strategy (?).
Fixed the bugs
1) Fixed Target and Asking Rate. It used to be off by one run.
2) Scored No Balls will get one extra run for the no ball itself.
3) Long output format modified to show score after every delivery.
Version 2.017 adds
| | |
| --- | --- |
| | Caught and bowled is output as "c & b xyz" instead of "c xyz b xyz". |
Reviews
Downloads
WinCricket v2.017 229Kb (includes Pakistan and India teams).
Bangladesh squad by Arijit Sen.
Holland squad by Timothy Glover.
Kenya squad by Timothy Glover.
United Arab Emirates squad by Timothy Glover.
World XI squad by Arijit Sen.
Zimbabwe squad by Timothy Glover.
Sheffield Shield squads by Timothy Glover. Teams included are Queensland, New South Wales, Western Australia, South Australia, Victoria, Tasmania and Canberra. I included Canberra because they have a side in our Mercantile Mutual Cup Limited Overs competition.
New Test countries Squads by Arijit Sen.
Indian Zonal Squads by Arijit Sen.
One Day Squads by Pranshu Sharma. See readme.txt included in ZIP file.
One Day Squads by Timothy Glover. The teams included are Australia, Bagladesh, Canada, England, Holland, India, Ireland, Kenya, New Zealand, Pakistan, South Africa, Scotland, Sri Lanka, U.A.E, West Indies and Zimbabwe.
One Day Squads by Ryan Seccull. (25/02/2001) Ryan says - I've used mathimatical formulae to calculate the player ratings because I don't have in-depth knowlegde of all teams. I've inculded all the test playing nations plus Kenya and Scotland so a 2001 World Cup could be simulated.
Feedback received (my comments are in italics)
Send feedback about WinCricket.
Timothy Glover said on 5 November 1998
Since I use WinCricket for running my Cricket PBeM League I thought it would be a good Idea to do a review on the game. It is a very good statistical simulation for the PC using data that you can edit/create. Playing and setting up a game is not a problem with the easy-to-use pop-up options menu, you can select what type of pitch, outfield, run scoring ability is. And playing the game is great fun, being able to select your own bowlers, batsman. Also shows a menu where it has the statistics during the over. Eg. Gough to M.Waugh - 2 runs to mid-wicket. Another great enhancement is saving the game to a *.txt file. With the file it has the batting scorecard, bowling scorecard, partnerships, etc.
Hints
Cheats
Links
WinCricket home page.
Thomas Rose is running the FreeSpeech PBeM League using WinCricket.
Screenshots
Set up the pitch conditions exactly as you want them.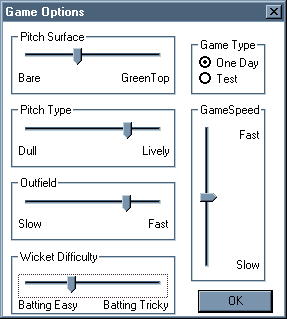 Game in progress.